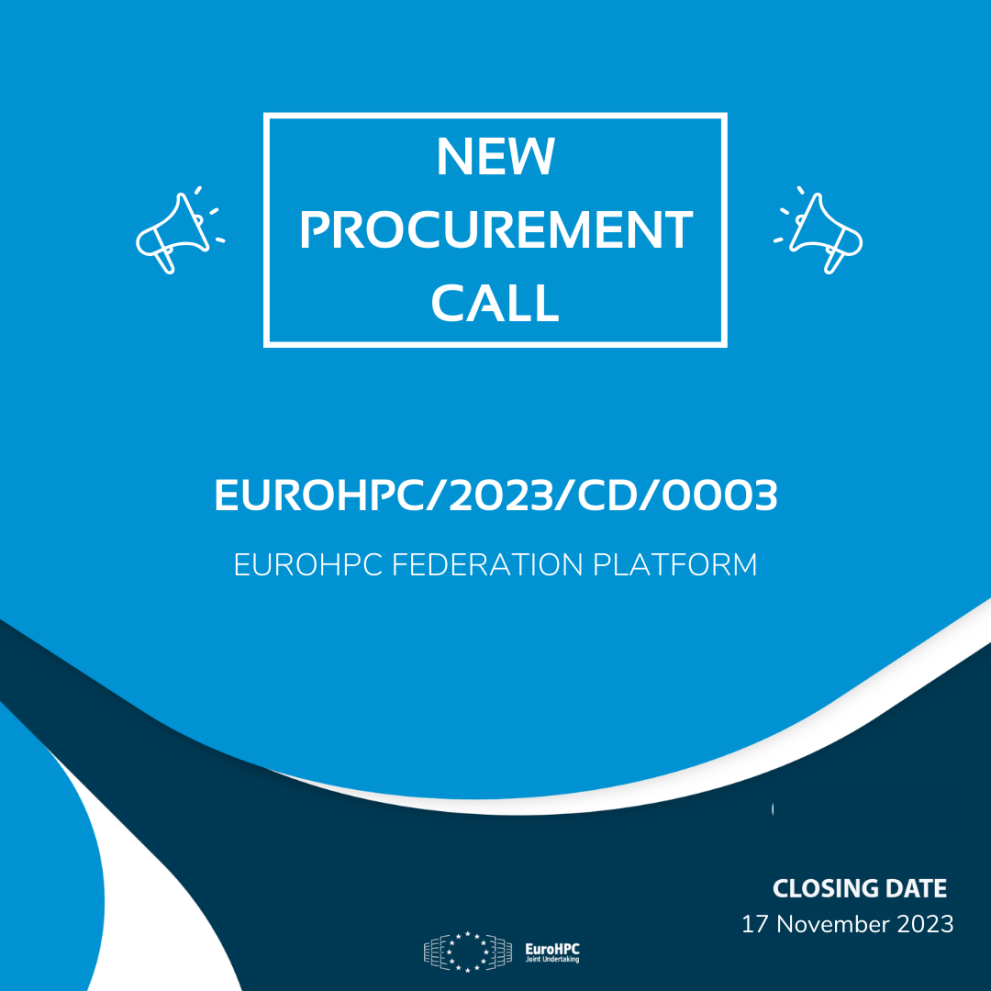 The aim of this call is to establish a world‐leading federated and secure HPC and quantum infrastructure ecosystem in the European Union and ensure wide use of this infrastructure to many public and private users, to support the development of key skills for European science and industry.
This initiative corresponds to the EuroHPC JU's mission to develop, deploy, maintain, and extend in the European Union a world leading federated and secure supercomputing, quantum computing services and connect to the data infrastructure ecosystem such as federated data spaces and data lakes.
The call will support the development, acquisition and operation of a platform for the seamless federation and secure service provisioning of supercomputing and quantum computing service and data infrastructure. It will aim to establish a one-stop shop access point for any supercomputing or data service managed by the Joint Undertaking, providing any user with a single point of entry.
The platform should be designed to be secure, scalable, flexible and user-centric. Its highly adaptable configuration will be tailored to a wide range of services, applications and user needs and based on user requirements, following a co-design approach. It will be compatible with a range of European Initiatives. To encourage the uptake of the EuroHPC infrastructure by the private sector, in particular SMEs, special attention will also be paid to delivering industry-friendly HPC federation services.
More details
The purpose of this call is to select the economic operator for the delivery, installation and further development of a federation platform across EuroHPC JU owned supercomputers including quantum computers as well as for the provision of training and the support and maintenance of the platform. The federation platform and the related data bases will be owned by EuroHPC JU.
The call is open for submissions until 17/11/2023, 17:00 (CET).
More details and all relevant documents concerning the call are available here.
Background
The EuroHPC JU is a legal and funding entity, created in 2018 and reviewed in 2021 by means of Council Regulation (EU) 2021/1173, with the mission to:
develop, deploy, extend and maintain in the EU a world-leading federated, secure and hyper-connected supercomputing, quantum computing, service and data infrastructure ecosystem;
support the development and uptake of demand-oriented and user-driven innovative and competitive supercomputing system based on a supply chain that will ensure components, technologies and knowledge limiting the risk of disruptions and the development of a wide range of applications optimised for these systems;
widen the use of that supercomputing infrastructure to a large number of public and private users and support the development of key HPC skills for European science and industry.
The EuroHPC JU has already procured nine supercomputers, located across Europe:  LUMI in Finland, LEONARDO in Italy,  MareNostrum5 in Spain, Vega in Slovenia, MeluXina in Luxembourg, Discoverer in Bulgaria, Karolina in the Czech Republic, Deucalion in Portugal and earlier this week, JUPITER, the first European exascale supercomputer, in Germany.
The deployment of an additional supercomputer is underway in Greece: Daedalus, with plans for more, including a second EuroHPC exascale supercomputer, to be hosted by the Jules Verne consortium in France and several mid-range supercomputers across Europe.
In addition, six EuroHPC quantum computers are under deployment in Czechia, France, Germany, Italy, Poland and Spain. These revolutionary quantum computers will allow European users to explore a variety of quantum computing technologies coupled to leading supercomputers.
Details
Publication date

6 October 2023

Author