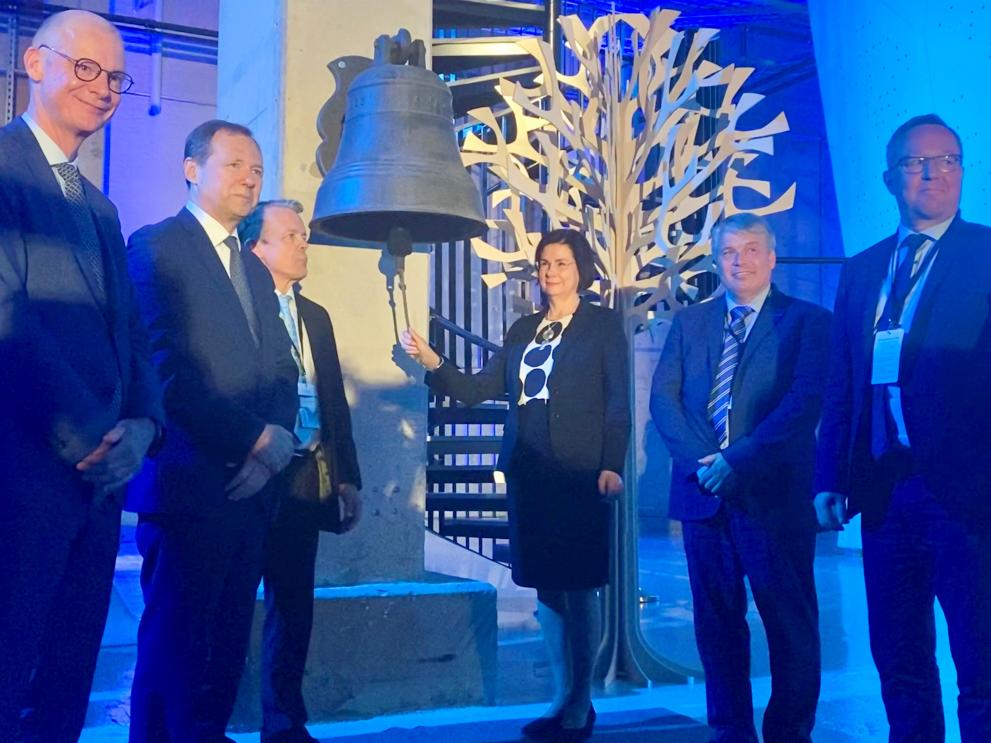 Today, LUMI, the European High Performance Computing Joint Undertaking (EuroHPC JU) supercomputer located in Finland was officially inaugurated by Mr. Petri Honkonen, Finland's Minister for Science and Culture and Mr. Mika Lintilä, Finland's Minister for Economic Affairs. The event was also attended by Anders Dam Jensen, the EuroHPC JU's Executive Director.
LUMI is a pre-exascale system based on a Cray EX supercomputer supplied by Hewlett Packard Enterprise (HPE) and capable of executing more than 375 petaflops or more than 375 million billion calculations per second. LUMI has been set up in Kajaani, Finland, in one of the world's greenest data centres, which is hosted by CSC – IT Center for Science Ltd.
The system has been ranked as the fastest supercomputer in Europe and 3rd fastest globally in the latest edition of the TOP500 list of the world's most powerful supercomputers. LUMI also ranks as the greenest supercomputer in Europe and the 3rd greenest globally. It is powered using only renewable energy, using natural cooling systems, and re-using its waste heat to supply up to 20 percent of local district heating.
LUMI offers researchers all over Europe a world-class tool for understanding complicated phenomena, such as climate change. It serves as a platform for international research cooperation and for the development of artificial intelligence and quantum technology. Part of the resources of the computer will focus on industrial research and development activities. LUMI's environmentally friendly solutions distinguish it from other supercomputers which are known for their extremely intensive energy usage. LUMI is a key tool in promoting digital and green transition throughout society.
On the occasion of the inauguration, Margrethe Vestager, Executive Vice-President of the European Commission said:
"Today marks a major step for Europe's digital and green transformation. LUMI is now the fastest and most energy-efficient supercomputer in Europe, and one of the most powerful ones in the world. Thanks to its massive computing capacity, LUMI will enable scientific breakthroughs in for instance medicine and climate research at a much faster pace. It could be in the development of vaccines, diagnosis of cancer, or mitigation of the effects of climate change. This is a great example of the enormous potential of artificial intelligence to improve our lives."
Anders Dam Jensen, Executive Director of the EuroHPC Joint Undertaking stated:
"The societal challenges for which we use supercomputers exist on a global scale. The extent of these challenges, and the work required to tackle and transform them into innovation opportunities, requires much collaboration across many branches of academia and countless research teams.

It therefore can only make sense that one of the biggest and most important research infrastructures should be based on extensive collaboration. In this, EuroHPC's LUMI consortium collaboration is a pioneering effort to strengthen European competitiveness and digital sovereignty while promoting global research collaboration."
Kimmo Koski, Managing Director CSC – IT Center for Science added:
" LUMI is an ecosystem for high-performance computing, artificial intelligence, and data-intensive research, which enables breakthroughs in several branches of academic research. In addition, a fifth of LUMI's capacity is targeted to companies that are getting the opportunity to use methods of next-generation high-performance computing and to give rise to new skills and innovation."
More details
LUMI is owned by the EuroHPC Joint Undertaking, and it is run by a consortium of 10 countries with long traditions and knowledge of scientific computing: Finland, Belgium, Czech Republic, Denmark, Estonia, Iceland, Norway, Poland, Sweden, and Switzerland.
The supercomputer is co-funded with a total budget of EUR 144.5 million by the EuroHPC JU and the LUMI Consortium.  
LUMI's second pilot phase for selected users will start in August 2022, and the system will become generally available for users in late September 2022. Half of the LUMI computing resources will be allocated to EuroHPC users, following open periodic and peer-reviewed calls to which all eligible European users may participate.
Background
In order to equip Europe with a world-leading supercomputing infrastructure, the EuroHPC JU has already procured seven supercomputers, located across Europe. Five supercomputers are now fully operational and ranked among world's most powerful supercomputers: LUMI in Finland, Vega in Slovenia, MeluXina in Luxembourg, Discoverer in Bulgaria and Karolina in the Czech Republic. Three more supercomputers are also underway: LEONARDO in Italy, Deucalion in Portugal and MareNostrum 5 in Spain. 
In December 2021, the EuroHPC JU launched two new calls for expression of interest for the selection of hosting entities to host and operate additional mid-range and exascale supercomputers.
In March 2022, the EuroHPC JU also launched two new calls for expression of interest: one to select the hosting entities which will host and operate the first EuroHPC quantum computers and one to upgrade the existing EuroHPC supercomputers.
More information
Details
Publication date

13 June 2022

Author