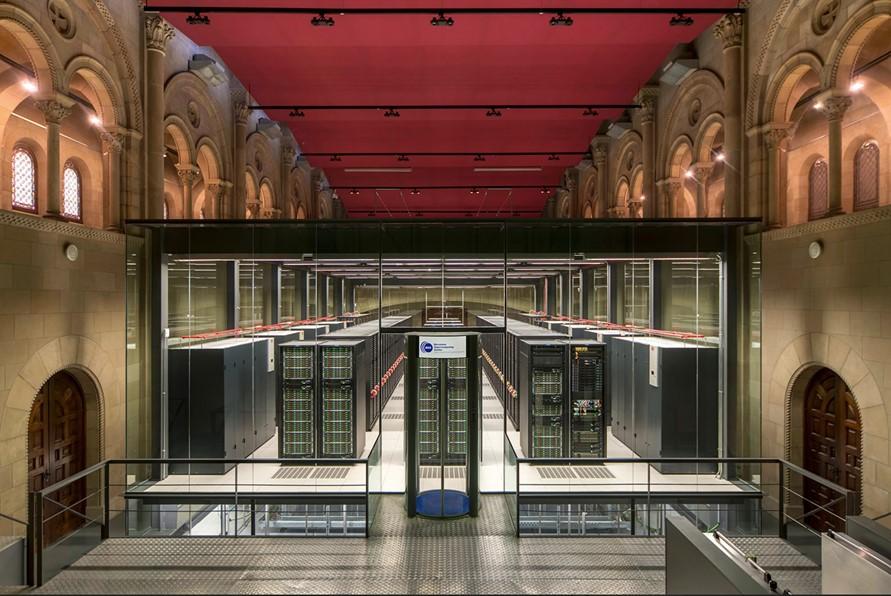 The European High Performance Computing Joint Undertaking (EuroHPC JU) has launched a call for tender for the procurement of a pre-exascale supercomputer. The system, called MareNostrum5, will be hosted by the Barcelona Supercomputing Center (BSC) and will be capable of executing at least 205 Petaflops, or at least 205 million billion calculations per second.
The EuroHPC JU seeks to procure a pre-exascale high performance computer which will be specifically tailored to strengthen European medical research through drug research, the development of vaccines, virus spread simulations as well as artificial intelligence and big data processing applications. The machine will also support traditional HPC applications, such as climate research, engineering, material science and earth sciences.    
This latest procurement will add to the EuroHPC JU porfolio of supercomputers and support the EU's mission to provide European scientists and industry with access to cutting-edge HPC infrastructures and services.
The system will be hosted in a new and innovative facility of the BSC, designed specifically to meet the needs of this supercomputer. The machine will be highly energy efficient, fully powered with green energy, and will utilise heat reuse technology. MareNostrum5 will rank amongst the world's top supercomputers and will pave the way toward exascale capabilities, the next supercomputing frontier. 
More details
The estimated total value for the call is EUR 151 410 000. The EuroHPC JU will fund 50% of the total cost of the new machine and the other 50% will be funded by a consortium made of three EuroHPC participating countries: Spain, Portugal, and Turkey.
Following the publication of a corrigendum, the closing date of the call has been extended to 21 Februray 2022, 16:00 CET.
More information can be found in the full tender specifications and all relevant documents are available on the dedicated eTendering webpage, the EU institutions' eProcurement platform. 
Background
The EuroHPC JU is a legal and funding entity, created in 2018 and recently reviewed by means of Council Regulation (EU) 2021/1173 ,with the mission to:
develop, deploy, extend and maintain in the EU a world-leading federated, secure and hyper-connected supercomputing, quantum computing, service and data infrastructure ecosystem;
support the development and uptake of demand-oriented and user-driven innovative and competitive supercomputing system based on a supply chain that will ensure components, technologies and knowledge limiting the risk of disruptions and the development of a wide range of applications optimised for these systems;
widen the use of that supercomputing infrastructure to a large number of public and private users and support the development of key HPC skills for European science and industry.
In order to equip Europe with a world-leading supercomputing infrastructure, the EuroHPC JU has already procured seven supercomputers, located across Europe. Four petascale supercomputers are now fully operational: Vega in Slovenia, MeluXina in Luxembourg, Discoverer in Bulgaria, Karolina in the Czech Republic. Another one is underway in Portugal: Deucalion.  Two EuroHPC pre-exascale supercomputers will soon complement the petascale machines: LUMI in Finland, Leonardo in Italy. 
Details
Publication date

3 December 2021

Author