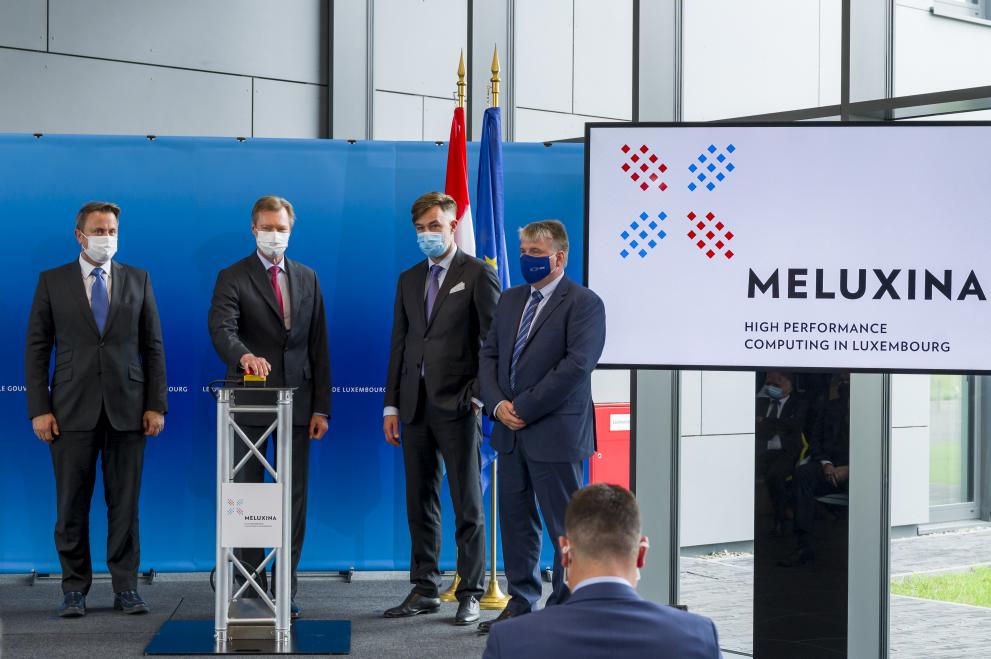 On 7 June 2021, the European High Performance Computing Joint Undertaking (EuroHPC JU) world-class supercomputer MeluXina was officially inaugurated by His Royal Highness Henri, Grand Duke of Luxembourg, in Bissen, Luxembourg. The event was also attended by the Prime Minister of Luxembourg, Minister of State Xavier Bettel and Minister of Economy Franz Fayot, together with EuroHPC Joint Undertaking Executive Director Anders Jensen.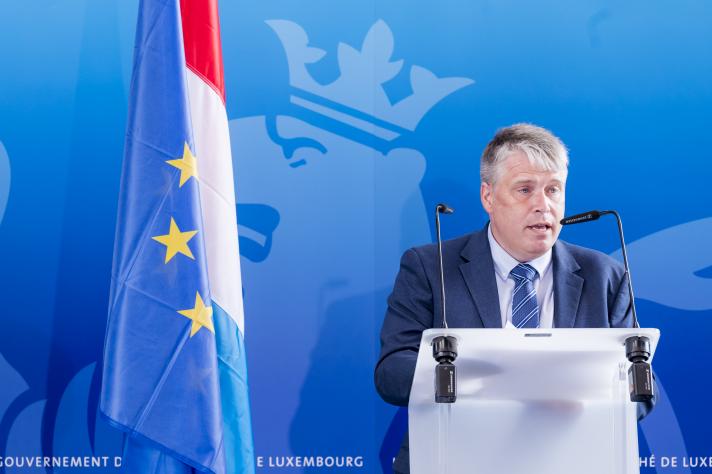 Copyright: SIP / Jean-Christophe Verhaegen
MeluXina is capable of executing more than 10 Petaflops, the equivalent of 10 million billion calculations per second, which will rank it among the world's top 50 supercomputers.  The petascale computer will be powered by green energy from a cogeneration plant powered by waste wood. MeluXina is funded via a joint investment of about EUR 30 million from the European Union and Luxembourg. 
Based on the BullSequana XH2000 technology infrastructure delivered by Atos, MeluXina will enable Luxembourgish and European scientists to cooperate in large international projects. These will support the development of applications across science, the public sector, and industry, in domains such as artificial intelligence, the fight against climate change, bioengineering, and weather forecasting. 
From June 2021, access time to EuroHPC JU's supercomputers will be allocated to European scientific, industrial and public sector users, matching their demanding application requirements, according to the principles stated in the EuroHPC JU Council Regulation and the JU's Access Policy. 
Prime Minister of Luxembourg, Minister of State Xavier Bettel, said: 
"MeluXina is live!  
"And it is now that the adventure of Luxembourg's first supercomputer can truly start: It's an extraordinary machine that already now ranks among the highest performing supercomputers - not only in Europe but worldwide. We are convinced that it will help to further stimulate the innovative spirit and competitiveness of our country in this highly globalised sector.  
"In short: MeluXina will help solidify Luxembourg's place on the map of the digital world." 
Luxembourg Minister of Economy Franz Fayot, said: 
"MeluXina will provide the best possible support for the digitalisation and innovative projects of companies for applications relating to modelling, research, the development of new products, forecasting and Big Data.  
"MeluXina will thus accompany the digital transition of the national and European economy by offering companies new opportunities to innovate and remain competitive in an increasingly digital world." 
Roberto Viola, Director-General, DG Communications Networks, Content and Technology, European Commission, said: 
"With today's inauguration of the MeluXina supercomputer in Luxembourg, we are one step closer to realising the digital transformation and digital sovereignty of Europe.  
"MeluXina will enable Luxembourgish and European researchers, industry (including SMEs), and public administrations to run innovative applications. As such, this will see a significant acceleration of advances in bioengineering, weather forecasting, drug discovery, as well as personalised medicine. This will bring tangible benefits for EU citizens." 
Anders Dam Jensen, the European High Performance Computing Joint Undertaking (EuroHPC JU) Executive Director, said: 
"MeluXina is particularly close to the heart of the EuroHPC JU as this supercomputer is located in Luxembourg, which also hosts the EuroHPC JU headquarters. Despite the challenges posed by the COVID-19 situation, the EuroHPC JU is in a phase of steep acceleration, with MeluXina being the second supercomputer inaugurated in only three months. 
"Today we are seeing the fruits of EuroHPC JU work and of Europe's investments in our technological future. Thanks to the tireless work of LuxProvide, the MeluXina supercomputer is fully operational and will significantly increase computing power currently available in Europe." 
Background 
The EuroHPC JU's objective is to foster better science and enhance innovation in Europe by providing access to cutting-edge High Performance Computing infrastructures and services to a wide range of users from the research and scientific community, as well as industry and the public sector. 
The company Atos was selected following the call for tender launched in January 2020 for the acquisition, delivery, installation and maintenance of a Petascale supercomputer located in LuxProvide's data center in Bissen, Luxembourg. 
Four other petascale supercomputers have been procured under the EuroHPC Joint Undertaking:
Furthermore, two EuroHPC pre-exascale supercomputers have been procured and will complement the petascale machines:
More info
Details
Publication date

7 June 2021

Author