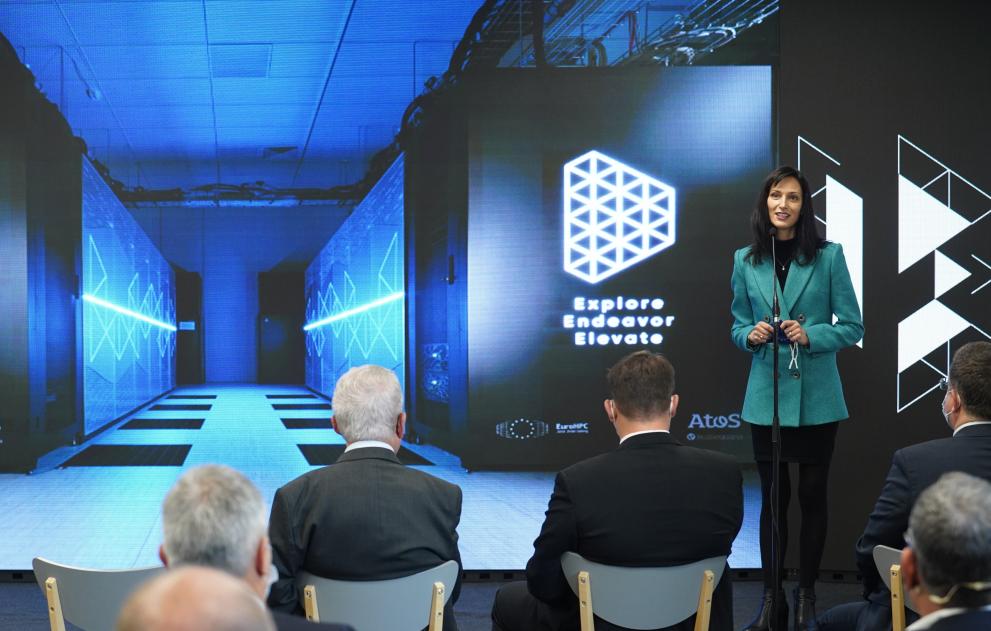 Today, the Bulgarian European High Performance Computing Joint Undertaking (EuroHPC JU) world-class supercomputer Discoverer was officially inaugurated by European Commissioner for Innovation, Research, Culture, Education and Youth, Mariya Gabriel in Sofia, Bulgaria. The Bulgarian Minister of Education and Science Prof. Nikolay Denkov, deputy Minister of Economy Krassimir Kiryakov, the Deputy Mayor of Sofia Doncho Barbalov, and the EuroHPC JU's Executive Director Anders Dam Jensen also participated in the ceremony. 
Discoverer design is based on the BullSequana XH2000 technology infrastructure delivered by Atos, this new petascale machine can execute more than 4.5 Petaflops, the equivalent of 4.5 million billion operations per second. 
Funded via a joint investment of about EUR 11,5 million from the EuroHPC JU and the Republic of Bulgaria, Discoverer will provide HPC services to a wide range of users, in Bulgaria, the Balkan region, and Europe. These will support the development of applications across science, the public sector, and industry, in domains such as health, ecology, agriculture or material design, for example to support the discovery of new drugs, better understand molecular interactions, or facilitate climate and seismic simulation. 
Discoverer is ranked 91st on the TOP500 world's most powerful supercomputer systems list. The performance of the machine, located on the territory of Bulgarian science and technology park Sofia Tech Park, was evaluated through special tests carried out according to the standards and requirements of the independent non-governmental organisation that compiles the list. 
Access to the computing resources of the new machine will be jointly managed by the Republic of Bulgaria and the EuroHPC JU in proportion to their investments. 
Mariya Gabriel, European Commissioner for Innovation, Research, Culture, Education and Youth, said:
"With the EuroHPC Discoverer, Bulgaria can foster research and be better integrated in pan-European innovation ecosystems. It will stimulate highly data intensive research in such areas as medicine, industry or security. This new supercomputer will aid European users in driving research and innovation, regardless of where they are located in Europe."
Anders Dam Jensen, the European High Performance Computing Joint Undertaking (EuroHPC JU) Executive Director, said:  
"I am delighted to welcome Discoverer to our growing family of EuroHPC supercomputers, thanks to the tireless work of Sofia Tech Park.  
Discoverer is a very important milestone towards meeting our objective of making Europe a global leader in high performance computing. 
Discoverer will significantly increase the computing power currently available in Europe. It will drive innovation, power research and support the digital sovereignty of Europe." 
Peter Statev, the Chairman of the Supervisory Board at Sofia Tech Park JSC, said: 
"The ambition of the Bulgarian team is to create conditions for the use of Discoverer not only for scientific research, but to create a platform for its use by business as a service (HPCaS). In today's world, data is asset of the highest value and our ability to prepare, process and analyse different classes of data is key to competitiveness.
No less important is the integration of Discoverer into the system of national scientific infrastructure and the joint and effective use of investments in the Centers of Excellence and Centers of Competence. Being part of the European family of supercomputers and their teams, I am convinced that we will be a significant tool for the digital transformation of Bulgarian industry and society. At the same time, we remain open to joint research and technological development with European and regional partners." 
Background  
The company Atos was selected following the call for tender launched in May 2020 for the acquisition, delivery, installation and maintenance of a Petascale supercomputer located in Sofia Tech Park, Bulgaria.  
So far, the EuroHPC JU has inaugurated two other petascale supercomputers: Vega in Slovenia and MeluXina in Luxembourg. Two other petascale supercomputers have been acquired: Karolina, in Czechia and Deucalion, in Portugal. Furthermore, three EuroHPC pre-exascale supercomputers are underway and will soon complement the petascale machines: in Finland, Italy and Spain.  
More info 
Details
Publication date

21 October 2021

Author