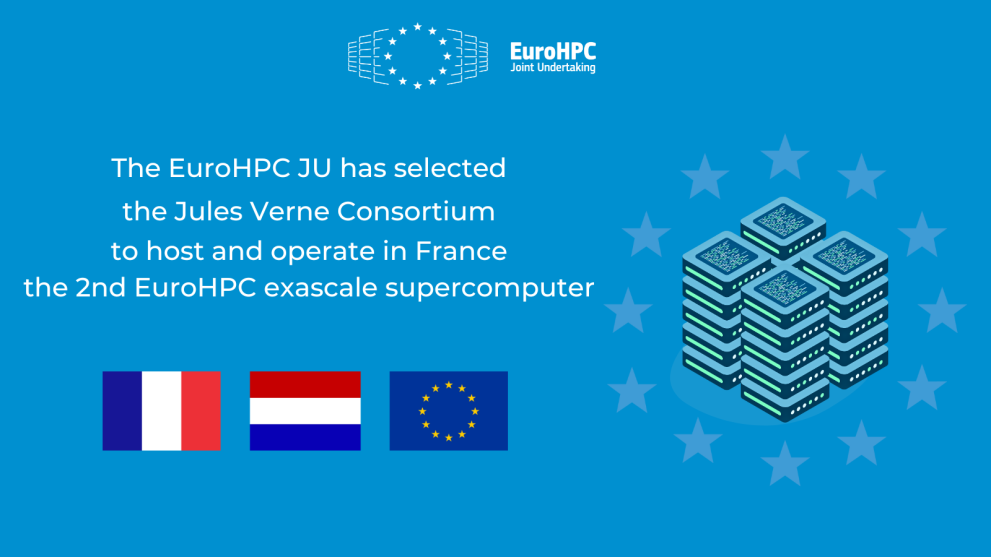 This new exascale supercomputer will be managed by GENCI (as hosting entity), the French national agency for High Performance Computing, and operated at the TGCC computing centre by the CEA (as hosting site), the French Alternative Energies and Atomic Energy Commission, in Bruyères-le-Châtel. Exascale supercomputers are systems capable of performing more than a billion billion calculations per second and represent a significant milestone for Europe.
Just as the existing EuroHPC supercomputers, this new system will be available to serve a wide range of European users, no matter where in Europe they are located, in the scientific community, as well as industry, and the public sector. This exascale supercomputer will have a major impact on European scientific excellence by supporting the development of high-precision models of complex systems and helping to solve key societal questions regarding, for example, climate change and prediction of extreme weather events, innovative design and personalised medicine, the development of materials and new energies, digital twins for industry or use the artificial intelligence at scale.
The Jules Verne consortium will be led by France through GENCI supported by CEA, with the participation of the Netherlands through SURF, a cooperative association of Dutch educational and research institutions.
With a total budget of around EUR 540 million, the machine will be co-funded by the EuroHPC JU, with budget stemming from the Digital Europe Programme (DEP) and by contributions from France and the Netherlands. The JU will co-fund up to 50% of the total cost of the supercomputer. The exact funding arrangement for the new supercomputer will be reflected in the hosting agreement that will be signed soon.
The consortium has been selected as a result of a call for expression of interest for the selection of a hosting entity for a high-end supercomputer, launched in December 2022.
More details
Background
The EuroHPC JU is a legal and funding entity created in 2018 to enable the European Union and EuroHPC participating countries to coordinate their efforts and pool their resources with the objective of making Europe a world leader in supercomputing. The mission of the EuroHPC JU is:
to develop, deploy, extend and maintain in the EU a federated, secure hyperconnected supercomputing, quantum computing, service and data infrastructure ecosystem;
to support the development and uptake of demand-oriented and user-driven innovative and competitive supercomputing and quantum computing systems based on a supply chain that will ensure the availability of components, technologies and knowledge;
to widen the use of that supercomputing and quantum computing infrastructure to a large number of public and private users.
To date the EuroHPC JU has already procured eight supercomputers, located across Europe: 
The construction of additional two supercomputers is underway: JUPITER in Germany, the first European exascale supercomputer and Daedalus in Greece, with plans for more, including quantum computers.  In October 2022, GENCI and CEA have been selected to host and operate a EuroHPC quantum computer.
Details
Publication date

20 June 2023

Author