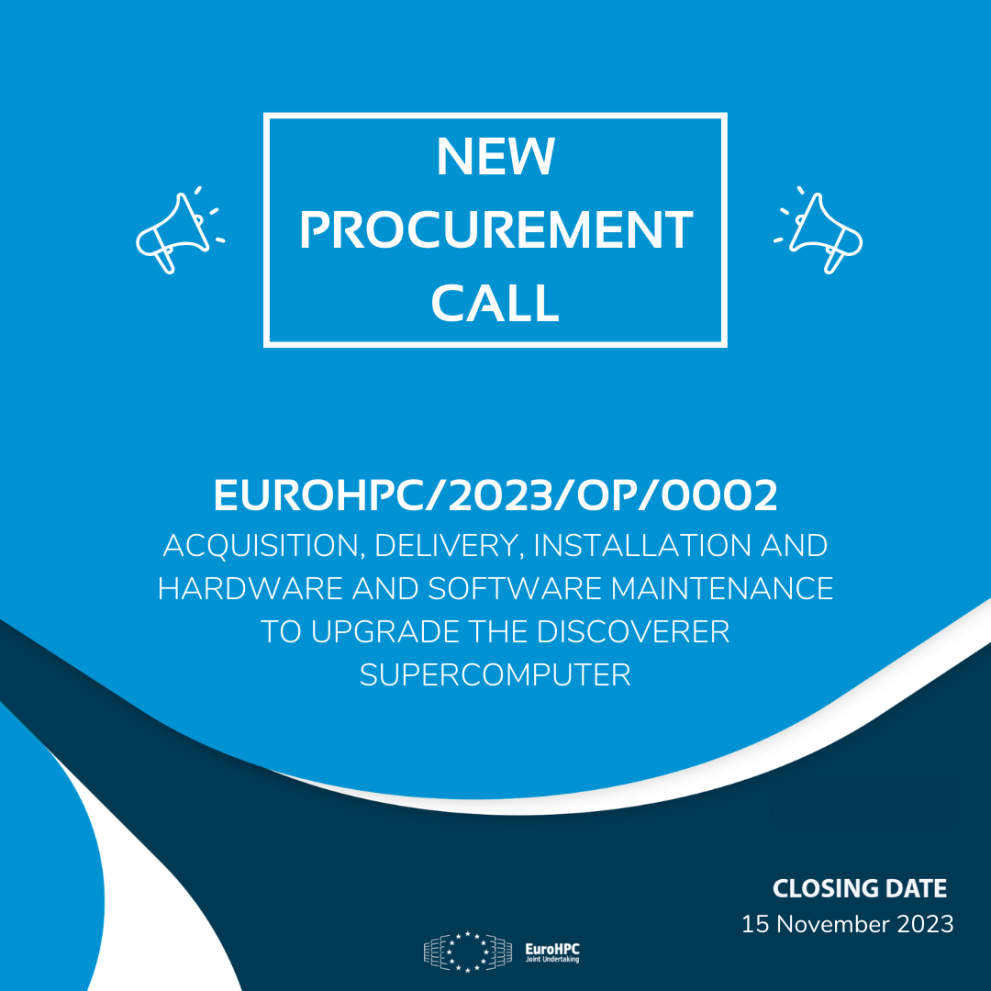 The Discoverer upgrade aims at adding supercomputer components to the current system including:
upgrading the system with a GPU partition, 
increasing the storage capacity,
equipping the system with an additional UPS (Uninterruptible Power Supply) to provide a backup power source in case of a power outage, brownout, or a surge in power.
Discoverer is a EuroHPC petascale supercomputer hosted at Sofia Tech Park and operational since October 2021. Supplied by Eviden and based on the BullSequana XH2000, Discoverer can execute more than 4.5 Petaflops, the equivalent of 4.5 million billion operations per second. The system is currently ranked 134th on the TOP500 world's most powerful supercomputer systems list. 
With the upgrade of its supercomputers, the EuroHPC JU is seizing the opportunity to ensure a cost effective implementation of its mission to develop, deploy, extend and maintain in Europe a world-leading supercomputing ecosystem. The upgrade will lead to an increase of the supercomputer's operational performance, and provide new functionalities to address the evolution of user needs. 
The estimated total value for the call is 3 040 000.00 EUR. Access to the computing resources of the upgraded system will still be jointly managed by the Republic of Bulgaria and the EuroHPC JU in proportion to their investments. 
More details can be found on this dedicated webpage.
Background
The EuroHPC JU is a legal and funding entity, created in 2018 and reviewed in 2021 by means of Council Regulation (EU) 2021/1173, with the mission to:
develop, deploy, extend and maintain in the EU a world-leading federated, secure and hyper-connected supercomputing, quantum computing, service and data infrastructure ecosystem;
support the development and uptake of demand-oriented and user-driven innovative and competitive supercomputing system based on a supply chain that will ensure components, technologies and knowledge limiting the risk of disruptions and the development of a wide range of applications optimised for these systems;
widen the use of that supercomputing infrastructure to a large number of public and private users and support the development of key HPC skills for European science and industry.
The EuroHPC JU has already procured nine supercomputers, located across Europe:  LUMI in Finland, LEONARDO in Italy,  MareNostrum5 in Spain, Vega in Slovenia, MeluXina in Luxembourg, Discoverer in Bulgaria, Karolina in the Czech Republic, Deucalion in Portugal and earlier this week, JUPITER, the first European exascale supercomputer, in Germany.
The deployment of an additional supercomputer is underway in Greece: Daedalus, with plans for more, including a second EuroHPC exascale supercomputer, to be hosted by the Jules Verne consortium in France and several mid-range supercomputers across Europe.
In addition, six EuroHPC quantum computers are under deployment in Czechia, France, Germany, Italy, Poland and Spain. These revolutionary quantum computers will allow European users to explore a variety of quantum computing technologies coupled to leading supercomputers.
Details
Publication date

11 October 2023

Author