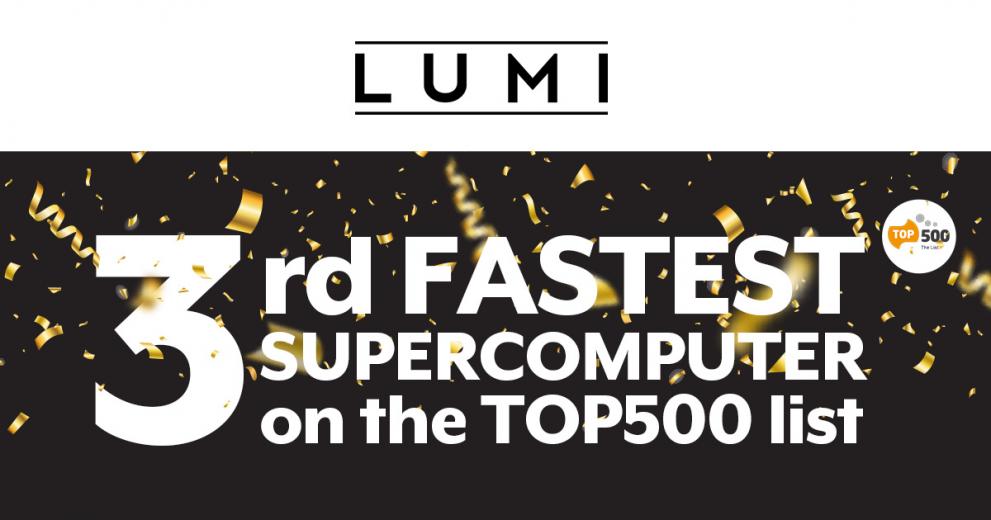 The TOP500 list is compiled twice per year in June and November and ranks the world's most powerful supercomputers by their performance on the LINPACK Benchmark. LUMI is a pre-exascale system which reached a measured High Performance Linpack (HPL) performance of 151,9 petaflops. Once fully operational in June 2022, LUMI's  expected HPL performance will reach up to 375 petaflops.
LUMI is a cutting-edge machine, able to compute and process data faster than any other European machine. It will contribute to accelerate the pace of research to create new knowledge and solutions to global societal challenges, such as climate change.
Thanks to LUMI's 'green' eco- efficient features, these power-intensive tasks can be done in an exceptionally sustainable way. LUMI is fully powered using renewable energy, uses natural cooling systems to cool down its processors and all the waste heat it produces is re-used for local district heating.
Anders Dam Jensen, Executive Director of the European High Performance Computing Joint Undertaking (EuroHPC JU), said:
"The EuroHPC JU is extremely proud to see its first pre-exascale supercomputer reach third position on the Top500 list. This is the latest tangible success for the EuroHPC initiative and validates the work that the JU is doing to achieve its mission of developing a world-class supercomputing infrastructure in Europe.

"To see LUMI so well ranked is an incredible result which shows the importance of European collaboration and the impact we can achieve when we work together." 
Kimmo Koski, Managing Director of CSC – IT Center for Science, Finland added on behalf of the LUMI consortium added:
"The LUMI consortium is excited about LUMI's top500 ranking and is looking forward to seeing LUMI's remarkable computing power being used for RDI efforts with major societal impact. In addition to being an enabler of scientific breakthroughs and industrial innovation, LUMI will also be a platform for research collaboration allowing for mutual learning and competence development as well as for developing emerging technologies, such as AI and quantum. All these factors together make LUMI a key instrument for Europe's future success and strategic autonomy.

"LUMI is not only a very powerful supercomputer, it is also an exceptionally green one. It runs on 100% renewable hydroelectricity, uses free cooling and has an advanced waste heat utilisation system with its waste heat being used for local district heating. This makes LUMI's contribution to Europe's future all the more remarkable."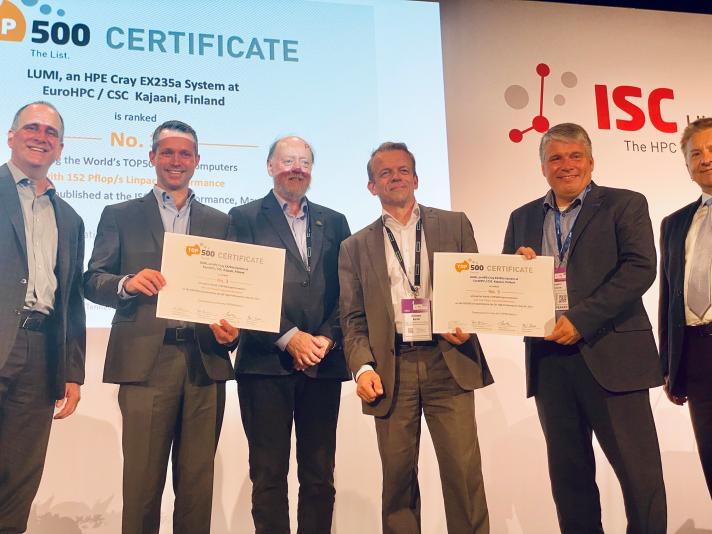 More details
LUMI is hosted by CSC – IT Center for Science. The system is supplied by Hewlett Packard Enterprise (HPE), based on an HPE Cray EX supercomputer and following a call for tender launched in November 2019.
LUMI is a unique joint endeavour between the EuroHPC JU and a consortium made up of ten countries: Finland, Belgium, Czech Republic, Denmark, Estonia, Iceland, Norway, Poland, Sweden, and Switzerland. The supercomputer is co-funded with a total budget of EUR 144.5 million by the EuroHPC JU and the LUMI Consortium.  
Half of the LUMI computing resources will be allocated to EuroHPC users, following open periodic and peer-reviewed calls to which all eligible European users may participate.
LUMI will officially be inaugurated on Monday 13th June 2022, in Kajaani Finland. The event will be live-streamed.
More details on LUMI can be found in this dedicated webpage.
Background
In order to equip Europe with a world-leading supercomputing infrastructure, the EuroHPC JU has already procured seven supercomputers, located across Europe. Four supercomputers are now fully operational and ranked among world's most powerful supercomputers:  Vega in Slovenia, MeluXina in Luxembourg, Discoverer in Bulgaria and Karolina in the Czech Republic. Four more supercomputers are also underway: LUMI in Finland, LEONARDO in Italy, Deucalion in Portugal and MareNostrum 5 in Spain. 
In December 2021, the EuroHPC JU launched two new calls for expression of interest for the selection of hosting entities to host and operate additional mid-range and exascale supercomputers.
In March 2022, the EuroHPC JU also launched two new calls for expression of interest: one to select the hosting entities which will host and operate the first EuroHPC quantum computers and one to upgrade the existing EuroHPC supercomputers.
Details
Publication date

30 May 2022

Author