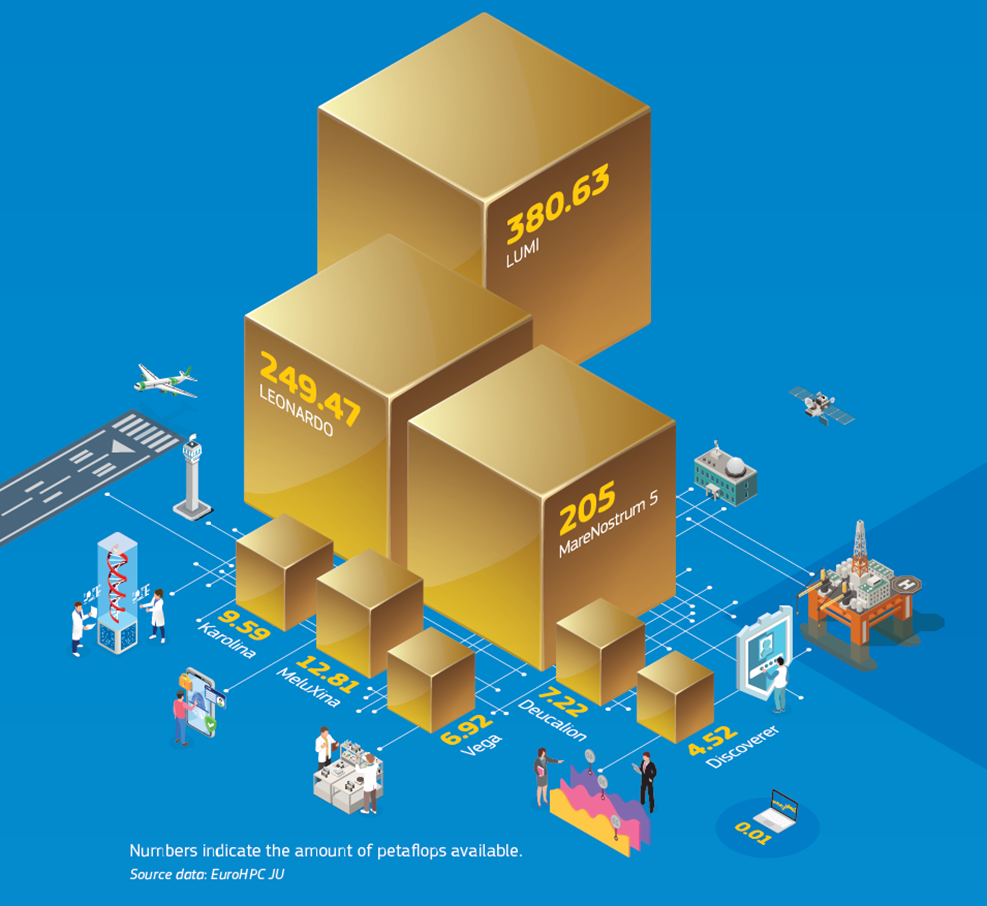 The EuroHPC pre-exascale supercomputer LUMI, located in Finland, reached the 3rd place on the new global Green500 list which ranks supercomputers from the TOP500 list in terms of energy efficiency. All operational petascale EuroHPC systems have ranked as well among the world's most powerful and energy efficient supercomputers.
LUMI: one of the greenest supercomputers in the world
The Green500 list, compiled bi-annually, ranks the top 500 most powerful supercomputers in the world by measuring their energy efficiency features.
In addition to its excellent performance per watt, LUMI uses 100% carbon-free hydroelectric energy for its operations, and its waste heat is reused to heat up the surrounding houses in city of Kajaani, Finland, the home of LUMI.  LUMI's waste heat will account for about 20 percent of the district heating in the surrounding city of Kajaani, and will substantially reduce the entire city's annual carbon footprint: by 12,400 tons – an amount that equals the output from nearly 4000 passenger cars.
Anders Dam Jensen, Executive Director of the European High Performance Computing Joint Undertaking (EuroHPC JU), said:
"To achieve the third position on the Green500 list is a fantastic achievement. We know how critical it is now to accelerate the green transition and ensure energy security and efficiency in Europe.

To be able to build a system which is both highly powerful and highly eco-efficient is proof that we can achieve great things when we take sustainability into account. LUMI's green power is a celebration of a new age of eco-responsible supercomputing."
World-class green petascale supercomputers
All operational petascale EuroHPC supercomputers, MeluXina, Vega, Discoverer, and Karolina, have ranked among the world's most powerful supercomputers, according to the TOP500 ranking released this week. The TOP500 list is compiled twice per year in June and November and ranks the world's most powerful supercomputers by their performance on the LINPACK Benchmark.
In the Green500 list,  two EuroHPC supercomputers, Karolina in Czechia and MeluXina in Luxembourg, rank among the top 15 greenest supercomputers in the world, at 14th and 15th place respectively.
All EuroHPC JU systems are water cooled, removing the requirement of high operational costs of air-cooled systems and in parallel reducing the energy footprint.
| | | |
| --- | --- | --- |
|   | TOP500 | Green500 |
| MELUXINA |  # 48 | # 15 |
| KAROLINA | # 79 | # 14 |
| DISCOVERER | # 113 | # 241 |
| VEGA | # 131 | # 247 |
Background
In order to equip Europe with a world-leading supercomputing infrastructure, the EuroHPC JU has already procured seven supercomputers, located across Europe. Four supercomputers are now fully operational and ranked among world's most powerful supercomputers:  Vega in Slovenia, MeluXina in Luxembourg, Discoverer in Bulgaria and Karolina in the Czech Republic. Four more supercomputers are also underway: LUMI in Finland, LEONARDO in Italy, Deucalion in Portugal and MareNostrum 5 in Spain. 
In December 2021, the EuroHPC JU launched two new calls for expression of interest for the selection of hosting entities to host and operate additional mid-range and exascale supercomputers.
In March 2022, the EuroHPC JU also launched two new calls for expression of interest: one to select the hosting entities which will host and operate the first EuroHPC quantum computers and one to upgrade the existing EuroHPC supercomputers.
Details
Publication date

1 June 2022

Author