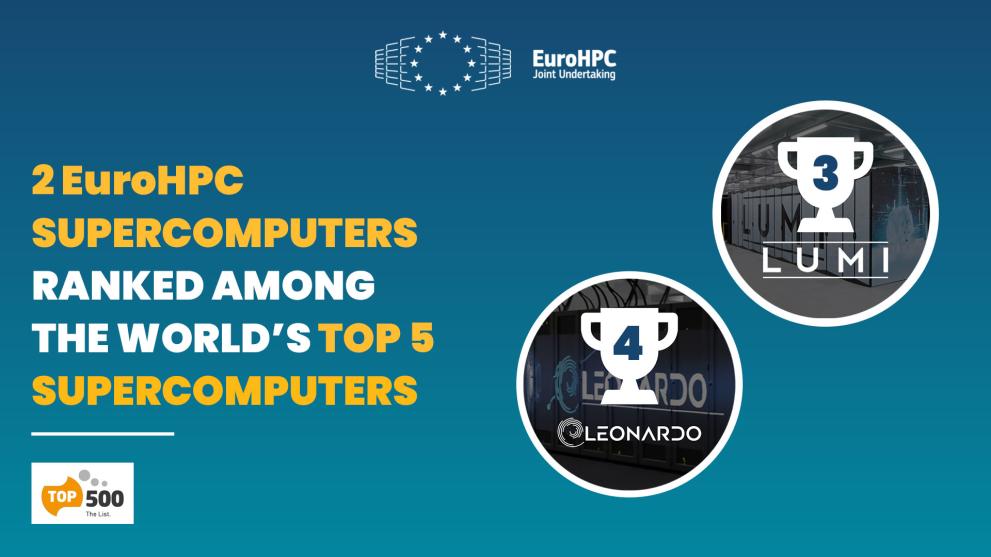 The latest edition of the TOP500 list has been published today on the first day of the SC 2022 Conference, in Dallas, United States. The TOP500 list is compiled twice per year in June and November and ranks the world's most powerful supercomputers by their performance on the LINPACK Benchmark.
Anders Dam Jensen, Executive Director of the European High Performance Computing Joint Undertaking (EuroHPC JU), commented:
"Two EuroHPC supercomputers ranked amongst the world's five most powerful supercomputers is a strong testimony to the fact that EuroHPC Joint Undertaking is delivering on its objectives. LUMI and Leonardo are both top-of-the range pre-exascale systems and will be available to European research and industry to innovate and improve citizens' quality of life, while further supporting Europe's digital sovereignty."
Leonardo makes its TOP500 debut
With a High Performance Linpack (HPL) performance of 174,70 petaflops or 174,70 million billion calculations per second, Leonardo has reached 4th place on the Top500 list. 
Hosted by CINECA at the Bologna Technopole in Italy, this pre-exascale supercomputer is the latest operational supercomputer in the EuroHPC fleet and the second EuroHPC pre-exascale supercomputer to become operational.  
Thanks to its architecture, Leonardo will cover a wide range of computing requests and user needs. Based on the BullSequana XH2000 solution supplied by Atos, this world-class machine is specifically well suited for high-intensity computing tasks such as data processing, High Performance Data Analytics (HPDA), Artificial Intelligence and machine learning. Leonardo is a great asset for European research and industry to innovate and bring benefits to citizens in fields such as medicine, energy, and agriculture.
Like all EuroHPC supercomputers, Leonardo employs a water-cooling system for improved energy efficiency.  
Leonardo is currently available through an early-access program and is expected to become fully operational in the first half of 2023 with an expected HPL performance of 250 petaflops. The supercomputer will be officially inaugurated on Thursday 24th November 2022 in Bologna, Italy.
Francesco Ubertini, President of Cineca stated:
"Cineca is very proud about Leonardo's Top500 ranking. This milestone rewards Cineca's 50-year commitment to supporting research through HPC and confirms Italy's role as a strategic asset in the building of the European HPC ecosystem. It is an honor to share this success with the EuroHPC JU members.

Supercomputers like Leonardo are capable of providing the computer power needed to model, simulate, and thus help to understand complex phenomena. Leonardo will enable scientific breakthroughs and technological innovation thus helping to face our society's most difficult challenges, among which the mitigation and management of risks due to extreme situations, from pandemics to natural events like earthquakes, tsunamis, volcanic events, or flash floods – many of which can be caused by climate change".
LUMI on the podium again 
The EuroHPC pre-exascale supercomputer LUMI, located in Finland and hosted by CSC – IT Center for Science, has been ranked once again in 1st place as the fastest supercomputer in Europe and 3rd fastest place globally in the latest edition of the TOP500 list.
With a measured HPL performance of 309,10 petaflops or 309,10 million billion calculations per second and based on an HPE Cray EX supercomputer supplied by Hewlett Packard Enterprise (HPE), LUMI is able to compute and process data faster than any other European machine. LUMI is accelerating the pace of research to create new knowledge and solutions to global societal challenges, such as climate change.
Thanks to LUMI's eco- efficient features, these power-intensive tasks can be done in an exceptionally sustainable way. LUMI is fully powered using renewable energy, uses natural cooling systems to cool down its processors and all the waste heat it produces is re-used for local district heating.
"The LUMI consortium is excited about LUMI being ranked so high among the fastest supercomputers in the world. By joining forces, the LUMI consortium, in cooperation with EuroHPC JU, has been able to acquire a more powerful and sustainable supercomputer than any of us in the ten consortium countries could have achieved on our own. This is a prime example of the power of European cooperation and it will bring benefits to the whole continent and beyond as LUMI's exceptional computing power will help researchers to create new knowledge with high societal impact in key fields, and boost industrial innovation and new technologies,"
says Kimmo Koski, Managing Director of CSC – IT Center for Science, Finland, on behalf of the LUMI consortium.
More information
Background
The EuroHPC JU is a legal and funding entity created in 2018 to enable the European Union and EuroHPC participating countries to coordinate their efforts and pool their resources with the objective of making Europe a world leader in supercomputing. The mission of the EuroHPC JU is:
to develop, deploy, extend and maintain in the EU a federated, secure hyperconnected supercomputing, quantum computing, service and data infrastructure ecosystem;
to support the development and uptake of demand-oriented and user-driven innovative and competitive supercomputing and quantum computing systems based on a supply chain that will ensure the availability of components, technologies and knowledge;
and, to widen the use of that supercomputing and quantum computing infrastructure to a large number of public and private users.
To date the EuroHPC JU has already procured eight supercomputers, located across Europe: LUMI in Finland, LEONARDO in Italy, Vega in Slovenia, MeluXina in Luxembourg, Discoverer in Bulgaria, Karolina in the Czechia, MareNostrum5 in Spain, and Deucalion in Portugal.
Details
Publication date

14 November 2022

Author