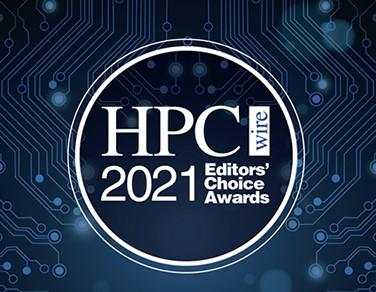 The European High Performance Computing Joint Undertaking (EuroHPC JU) has been awarded the 2021 HPCwire Editors' Choice for Best HPC Collaboration. The winners of the HPCwire Readers' and Editors' Choice Awards were announced at the kick off to the 2021 International Conference for High Performance Computing, Networking, Storage and Analysis (SC21), in St. Louis, United States. 
The EuroHPC JU was nominated in the Best HPC Collaboration category among other excellent projects:
the Northern Ireland High Performance Computing Centre ;
the Arecibo telescope's collapse, a broad coalition of collaborators from the Arecibo Observatory, the Texas Advanced Computing Center, University of Central Florida, the Engagement and Performance Operations Center, the NSF Cyberinfrastructure Center of Excellence Pilot (CICoE), and Globus at the University of Chicago;
PaCER, a partnership between Pawsey's supercomputing specialists and its research community;
the Neocortex high performance AI project, a research collaboration between the Pittsburgh Supercomputing Center , Cerebras Systems and Hewlett Packard Labs.
The EuroHPC JU received the Editors' Choice Award of this category for the successful launch of its first four supercomputers after years of planning and investment: VEGA, MeluXina, Discoverer, and Karolina, with more on the way in the coming months.
The Arecibo telescope's collapse initiative received the Readers' Choice award of the HPC Collaboration category, for the transfer of petabytes of irreplaceable observation data to a safe place in proximity to capability-class computing to foster analysis.
The EuroHPC pre-exascale machine LUMI, located in Finland, won the HPCwire Editors' Choice Award for Best Sustainability Innovation in HPC.
Anders Dam Jensen, the European High Performance Computing Joint Undertaking (EuroHPC JU) Executive Director, said:  
"We are deeply honoured to receive this prestigious award from the editors of HPCwire. We are delighted that the years of hard work and extensive collaboration between our European partners is being recognised internationally.
"We would also like to congratulate the LUMI consortium for their award in Best Sustainability Innovation in HPC. LUMI is a very important part of the EuroHPC Joint Undertaking's network of supercomputers and this award demonstrates their commitment to the environment and sustainability."
Background
Every year, HPCwire awards the best and brightest developments that happened globally in HPC over the last twelve months. These awards are attributed through a nomination and voting process, which involves the global HPC community and the HPCwire editors. These annual awards are highly coveted as prestigious recognition of achievement. They are given in the form of both Readers' Choice and Editors' Choice.
More information
Details
Publication date

16 November 2021

Author