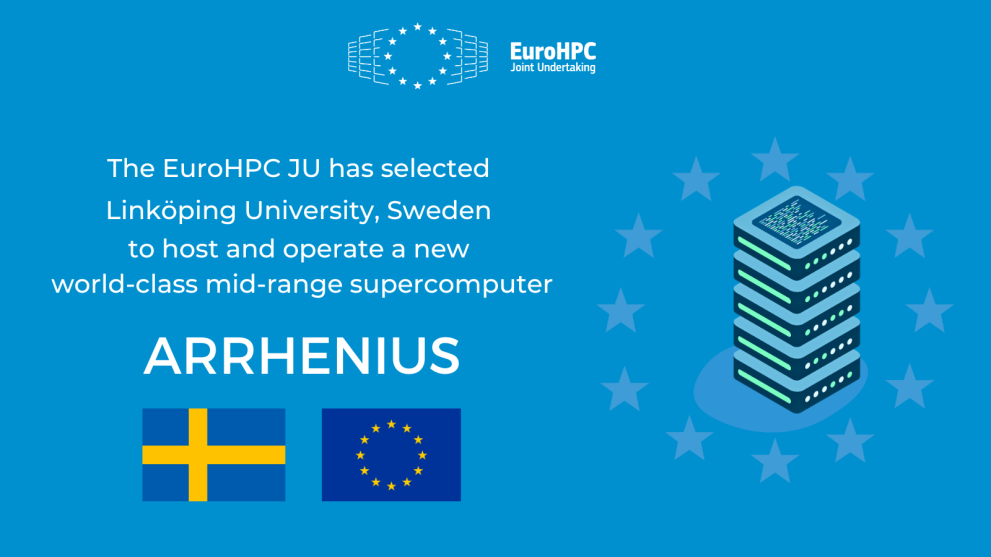 Arrhenius, as a mid-range supercomputer will be capable of executing over ten million billion operations per second and will be hosted by Linköping University, Sweden. The system is named after Carl Axel Arrhenius, a Swedish geologist and chemist who discovered gadolinite in 1787.
Just as the existing EuroHPC supercomputers, this new system will be available to serve a wide range of European users, no matter where in Europe they are located, in the scientific community, as well as in industry, and the public sector. Arrhenius will be able to tackle Artificial Intelligence/Machine Learning and other capacity demanding applications that need high memory bandwidth and fast data transfer to disk. Arrhenius will ensure the high-level of security and data integrity needed for research based on data on individuals and product development by private enterprises. It will power applications in a wide range of areas, from designing medicines and new materials to fighting climate change; it will advance science and boost the innovation potential of enterprises while ultimately improving the citizens' quality of life.
Linköping University, as host of NAISS and EuroHPC JU will own Arrhenius. Organisations such as RISE, the Research Institute of Sweden and ENCCS, the EuroCC Competence Centre Sweden, will also be involved to ensure an appropriate uptake from industrial and public sector users. Being placed in Sweden will allow Arrhenius to be both climate- and cost-effective, as Sweden has among the lowest greenhouse gas emission per kilowatt hour in Europe.
The machine will be co-funded by the EuroHPC JU, with budget stemming from the Digital Europe Programme (DEP) and by contributions from the Swedish Research Council's funding for research infrastructure. The JU will co-fund up to 35% of the total cost of the supercomputer. The exact funding arrangements for the new supercomputers will be reflected in the hosting agreement which will soon be signed.
Linköping University was selected as a result of a call for expression of interest for the selection of a hosting entity for mid-range supercomputers, launched in December 2022.
More details
Background
The EuroHPC JU is a legal and funding entity created in 2018 to enable the European Union and EuroHPC participating countries to coordinate their efforts and pool their resources with the objective of making Europe a world leader in supercomputing. The mission of the EuroHPC JU is:
to develop, deploy, extend and maintain in the EU a federated, secure hyperconnected supercomputing, quantum computing, service and data infrastructure ecosystem;
to support the development and uptake of demand-oriented and user-driven innovative and competitive supercomputing and quantum computing systems based on a supply chain that will ensure the availability of components, technologies and knowledge;
to widen the use of that supercomputing and quantum computing infrastructure to a large number of public and private users.
To date the EuroHPC JU has already procured eight supercomputers, located across Europe: 
The construction of additional two supercomputers is underway: JUPITER in Germany, the first European exascale supercomputer and Daedalus in Greece, with plans for more, including quantum computers.  
Details
Publication date

19 June 2023

Author