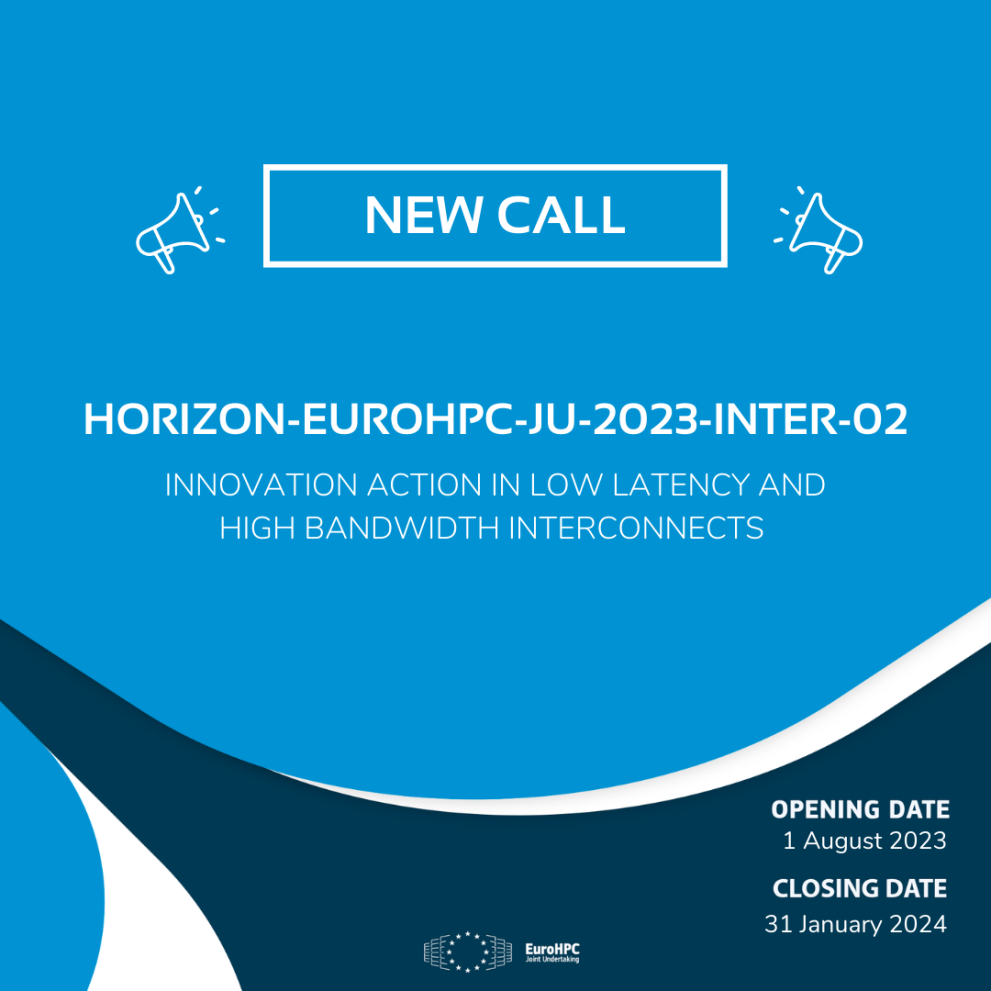 The objective of this call, HORIZON-EUROHPC-JU-2023-INTER-02, is to support the R&I technology development of innovative and competitive European HPC inter-node interconnect technology. 
In the era of exascale and post exascale supercomputing, in order to efficiently exploit the increasing available computation capabilities, inter-node networking (interconnect between compute nodes) becomes an even more critical component of exascale and post-exascale systems, which must be able to dynamically support the increasing number of heterogeneous computing devices in their operations.
Advanced interconnection networks are required to dynamically support multiple applications, to scale efficiently and reliably at exascale level and beyond, cope with new heterogeneous accelerators and processing elements, and support datacentric and heterogeneous applications.
The call is funded by Horizon Europe, the EU funding programme for research and innovation, with a total budget of up to EUR 30 million.
The call will be open for submissions from 1 August 2023 until 31 January 2024, 17:00 (CET).
More details and all relevant documents concerning the call are available on the EU Funding & tender opportunities portal and in the EuroHPC JU website. 
Background 
The EuroHPC JU is a legal and funding entity created in 2018 to enable the European Union and EuroHPC participating countries to coordinate their efforts and pool their resources with the objective of making Europe a world leader in supercomputing.
The mission of the EuroHPC JU is:
to develop, deploy, extend and maintain in the EU a federated, secure hyperconnected supercomputing, quantum computing, service and data infrastructure ecosystem;
to support the development and uptake of demand-oriented and user-driven innovative and competitive supercomputing and quantum computing systems based on a supply chain that will ensure the availability of components, technologies and knowledge;
to widen the use of that supercomputing and quantum computing infrastructure to a large number of public and private users.
To this end, the EuroHPC JU is procuring and installing supercomputers across Europe. No matter where in Europe they are located, European scientists and users from the public sector and the industry can benefit from these EuroHPC supercomputers, which rank among the world's most powerful.
In parallel, the EuroHPC JU is funding an ambitious research and innovation programme to develop a full European supercomputing supply chain: from processors and software to applications to be run on these supercomputers and know-how to develop strong European expertise. Among the ongoing R&I projects funded by the EuroHPC JU, one of them, RED-SEA project, which is paving the way to the next generation of European Exascale interconnects.
Details
Publication date

1 August 2023

Author