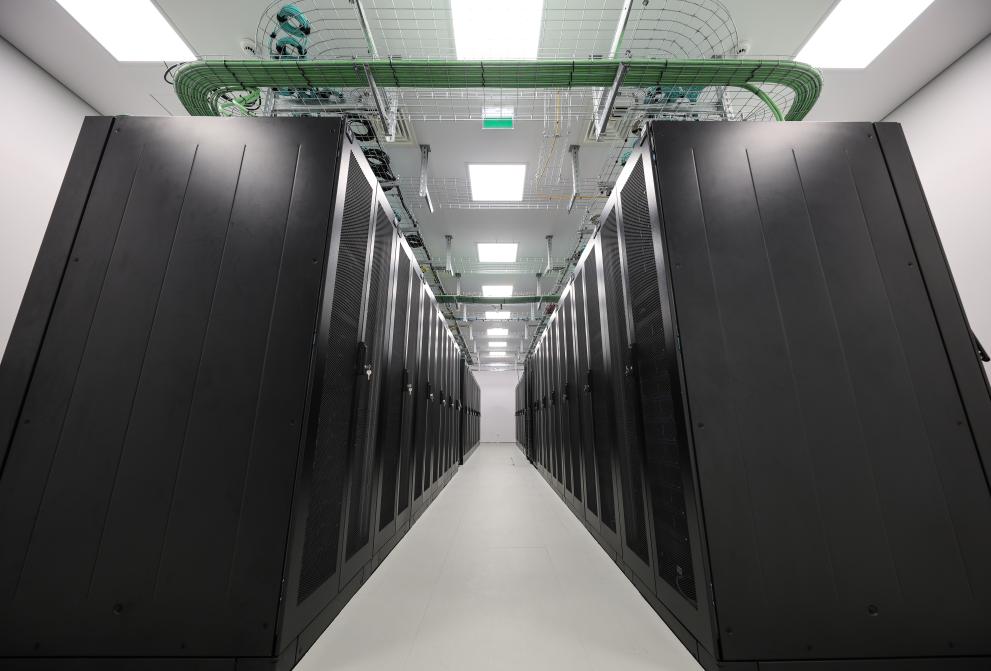 The Portuguese Minister of Science, Technology and Higher Education, Elvira Fortunato, the President of the Portuguese Foundation for Science and Technology (FCT), Madalena Alves, the Deputy Director General for Communication Networks, Content and Technology of the European Commission (CNECT), Thomas Skordas and the EuroHPC JU's Executive Director, Anders Dam Jensen participated in the ceremony.
Deucalion is a petascale system capable of executing more than 10 petaflops or 10 million billion calculations per second, supplied by Fujitsu Technology Solutions.  Deucalion is a unique EuroHPC supercomputer combining ARM A64FX processors and the Bull Sequana technology provided by Eviden,  the Atos-owned business in advanced computing. This makes Deucalion the first EuroHPC supercomputer based on ARM processors, thus paving the way for the European Processor Initiative (EPI) which aims to develop European energy-efficient microprocessors and accelerators.
Deucalion is the most powerful supercomputer in Portugal. Its computing capabilities will be made available to users in Portugal and throughout Europe, providing them with access to a new design that enriches the diverse and complementary set of computing architectures already made available by the EuroHPC systems.
Deucalion's architecture makes it perfect to be used to advance research and development in a wide range of domains, for example in meteorology and climate modelling, fluid dynamics and aerodynamics, astrophysics and cosmology, as well as technologies aiming to improve energy efficiency of computing infrastructures. It will also boost innovation in domains such as artificial intelligence, personalised medicine, pharmaceutical/medicine design and new materials, firefighting, territorial planning, but also smart mobility and autonomous vehicles.
Anders Dam Jensen, EuroHPC JU Executive Director said:
I extend a warm welcome to Deucalion as the latest addition to our expanding family of EuroHPC supercomputers. Deucalion stands as another proof of Europe's dedication to technological excellence and collaborative innovation. Today's inauguration is a new milestone towards our mission of making Europe a global leader in high performance computing.
João Nuno Ferreira, the General Coordinator of the FCT's FCCN Unit stated:
There was a noticeable lack of computing resources, both nationally and shared, in Portugal. Additionally, the European Union was experiencing a growing disparity in supercomputing capabilities compared to other developed regions in the world. To address this, the EuroHPC Joint Undertaking was established with the aim of advancing supercomputing in Europe. Portugal took advantage of this opportunity to make significant strides in this area, while also ensuring national integration into the new EuroHPC supercomputer network and securing European co-funding.
Madalena Alves, President of FCT stated:
The Deucalion supercomputer is capable of supporting over 200 projects annually and can multiply the national computing capacity by tenfold. High-performance computing generally comes with a high cost. By making this resource accessible to all researchers, institutions, and even companies, we aim to enhance the competitiveness of science and technology developed in Portugal. From 2020 to 2023, the FCT has approved 384 advanced computing projects, and the most recent call for proposals set a new record with 140 projects approved.
More details
Deucalion is co-funded with a total budget of EUR 20 million from EuroHPC JU and FCT. Access to the computing resources of the new machine will be jointly managed by FCT and EuroHPC JU in proportion to their investments. 
The supercomputer is hosted by the Minho Advanced Computing Centre (MACC) at the University of Minho, on the Azurém Campus in Guimarães, Portugal.
Background
The EuroHPC JU is a legal and funding entity created in 2018 to enable the European Union and EuroHPC participating countries to coordinate their efforts and pool their resources with the objective of making Europe a world leader in supercomputing.
The mission of the EuroHPC JU is:
to develop, deploy, extend and maintain in the EU a federated, secure hyperconnected supercomputing, quantum computing, service and data infrastructure ecosystem;
to support the development and uptake of demand-oriented and user-driven innovative and competitive supercomputing and quantum computing systems based on a supply chain that will ensure the availability of components, technologies and knowledge;
to widen the use of that supercomputing and quantum computing infrastructure to a large number of public and private users.
To this end, the EuroHPC JU is procuring and installing supercomputers across Europe. No matter where in Europe they are located, European scientists and users from the public sector and industry can benefit from these EuroHPC supercomputers, which rank among the world's most powerful.
To date the EuroHPC JU has already procured eight supercomputers: 
The deployment of additional two supercomputers is underway: JUPITER in Germany, the first European exascale supercomputer and Daedalus in Greece, with plans for more, including a second exascale supercomputer in France and several mid-range supercomputers.
In June 2023, the EuroHPC JU also signed hosting agreements with six sites across Europe to host & operate EuroHPC quantum computers: in Czechia, France, Germany, Italy, Poland and Spain.
Details
Publication date

6 September 2023

Author