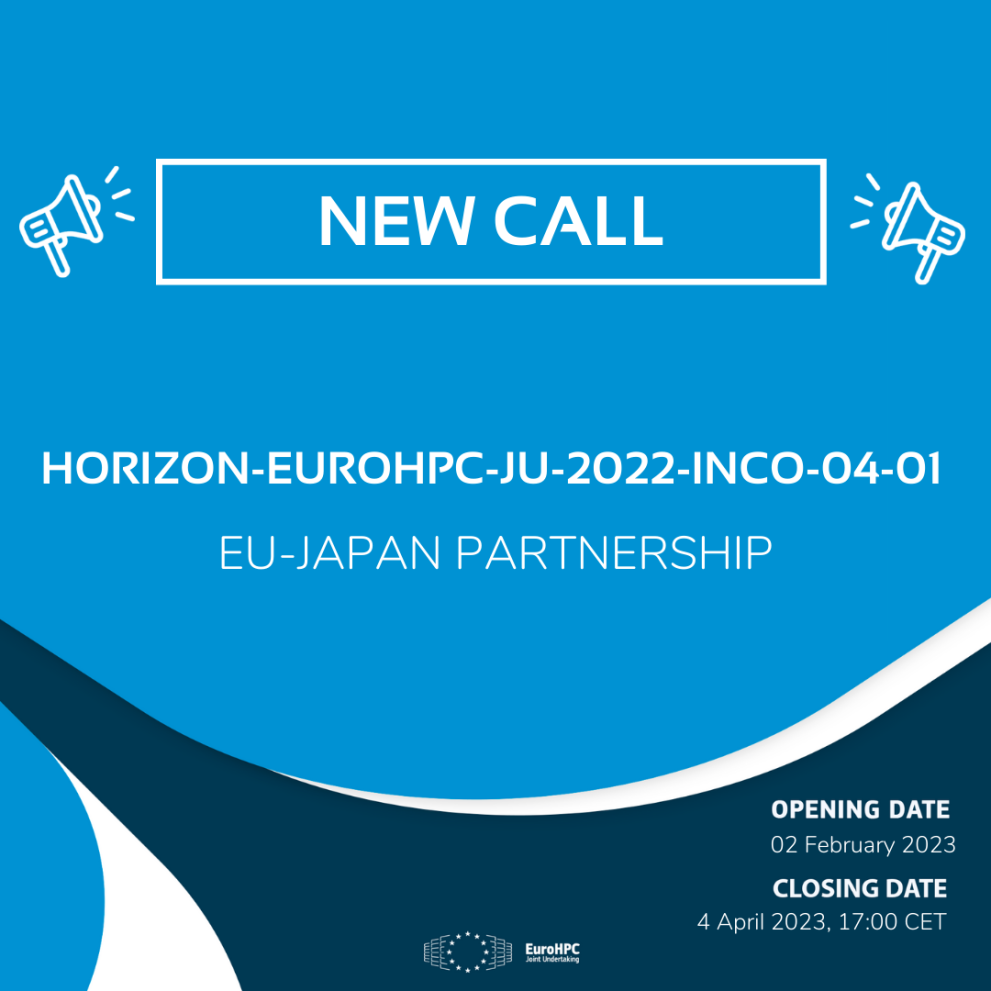 The aim of this call, HORIZON-EUROHPC-JU-2022-INCO-04-01 is to:
Strengthening the European HPC ecosystem by enabling European stakeholders to enhance HPC applications and codes in academic and industrial cases of interest for Europe and Japan in the identified priority domains.
Improved sharing of information and expertise to solve common societal problems with the use of advanced computing.
Facilitating the exchange of researchers and engineers between Japan and the EU and their access to advanced Japanese and EuroHPC JU supercomputing resources.
Improved international cooperation of EU-Japan HPC communities on advanced HPC application development, with a roadmap for future collaboration in targeted areas.
The call is open for submissions until 4 April 2023, 17:00 (CET).
More details and all relevant documents concerning the call are available on this dedicated webpage.
The call is funded by Horizon Europe, the EU research and innovation funding programme, with a total budget of up to EUR 5 million.
Background
The EuroHPC JU is a legal and funding entity, created in 2018 and reviewed in 2021 by means of Council Regulation (EU) 2021/1173, with the mission to: 
develop, deploy, extend and maintain in the EU a world-leading federated, secure and hyper-connected supercomputing, quantum computing, service and data infrastructure ecosystem; 
support the development and uptake of demand-oriented and user-driven innovative and competitive supercomputing system based on a supply chain that will ensure components, technologies and knowledge limiting the risk of disruptions and the development of a wide range of applications optimised for these systems; 

widen the use of that supercomputing infrastructure to a large number of public and private users and support the development of key HPC skills for European science and industry. 
The Regulation (EU) 2021/1173 gives a mandate to the EuroHPC JU to develop strategic research and innovation partnerships in HPC with third countries like Japan, Brazil, USA and India that enables advancing the work on HPC applications in domains of common interest, including facilitating access for researchers to EuroHPC JU resources and co-development of HPC applications. The European HPC ecosystem will be further reinforced by enabling European stakeholders to develop novel algorithms, implement them in state-of-the-art codes and architectures, and test the applications and codes in academic and industrial cases to benefit both Europe and like-minded third countries.
Details
Publication date

6 February 2023

Author