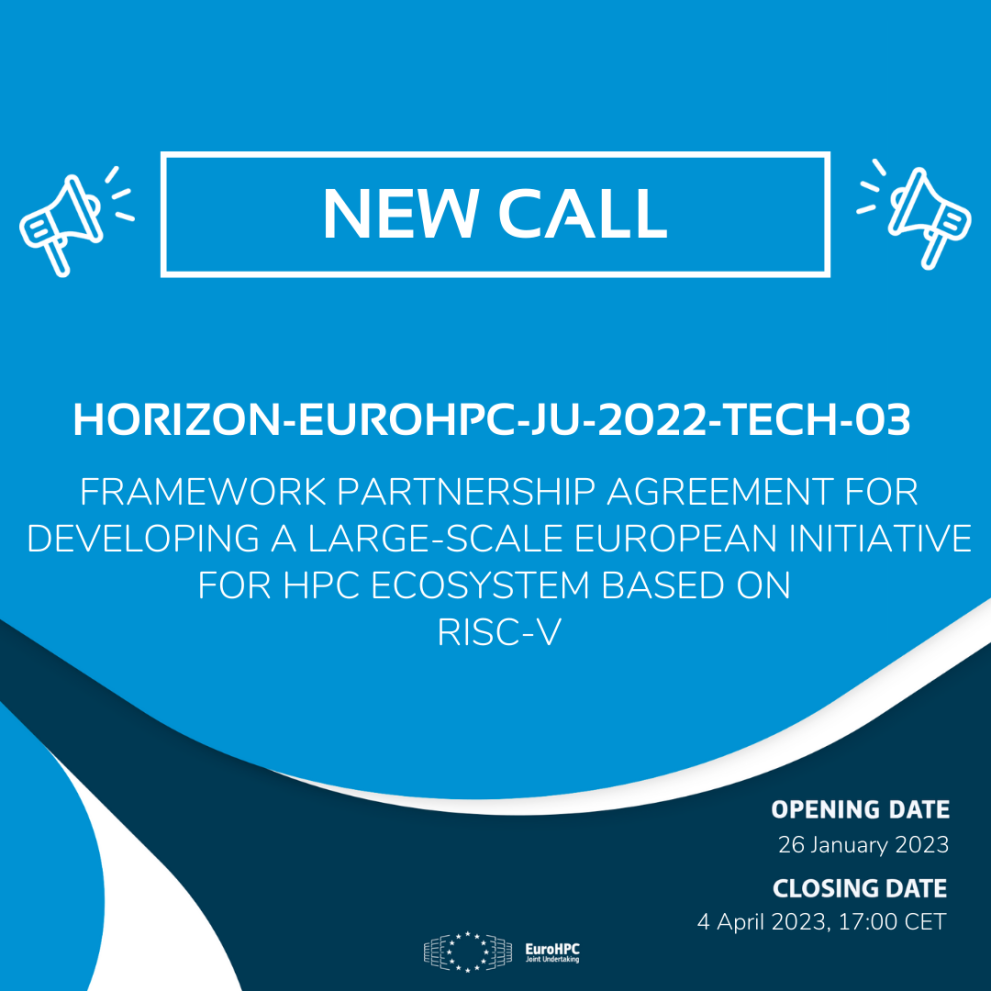 The aim of this call, HORIZON-EUROHPC-JU-2022-TECH-03, is to establish a partnership between the EuroHPC JU and a consortium of industry, research organisations and institutions in HPC to the development of innovative HPC hardware and software technology based on the open RISC-V ecosystem, followed by an ambitious action for building and deploying the exascale and post-exascale supercomputers based on this technology.
This partnership will be set up through one single FPA, which will ensure the implementation of the initiative through several complementary parallel and consecutive Specific Grant Agreements (SGAs) that will carry out the different activities in a common framework.
The FPA is expected to pursue an inclusive approach in the development of the necessary EU-wide RISC V ecosystem, ensuring European wide participation of relevant stakeholders across the EU and take-up of the technology developed. The FPA should include supercomputing centres, research institutes, universities, RTOs, industry, SMEs as well as any other organisations that can play a role in the realisation of the objectives of the initiative. 
The call is open for submissions until 4 April 2023, 17:00 (CET).
More details and all relevant documents concerning the call are available on this dedicated webpage
Background
The EuroHPC JU is a legal and funding entity, created in 2018 and reviewed in 2021 by means of Council Regulation (EU) 2021/1173, with the mission to: 
develop, deploy, extend and maintain in the EU a world-leading federated, secure and hyper-connected supercomputing, quantum computing, service and data infrastructure ecosystem; 
support the development and uptake of demand-oriented and user-driven innovative and competitive supercomputing system based on a supply chain that will ensure components, technologies and knowledge limiting the risk of disruptions and the development of a wide range of applications optimised for these systems; 

widen the use of that supercomputing infrastructure to a large number of public and private users and support the development of key HPC skills for European science and industry. 
The European Chips Act identified RISC-V as one of the next-generation technology where Europe should invest in order to preserve and strengthen its leadership in research and innovation as well as in equipment manufacturing, contributing to build and reinforce the Union's own capacity to innovate in the design, manufacturing and packaging of advanced, energy-efficient and secure chips, and turn them into manufactured products. This spans from micro-controllers up to high-end chips needed for data centres and supercomputers. Early on the technology development should be tied to big industrial use cases to make sure the development addresses a broader European market and contributes to the digital sovereignty beyond scientific HPC. 
The RISC-V technology is a credible energy-efficient alternative to the proprietary solutions for processors and accelerators across the computing continuum that are produced outside the EU.
Details
Publication date

1 February 2023

Author