Details
Status

Reference

EUROHPC JU CALL FOR PROPOSALS FOR DEVELOPMENT ACCESS MODE

Publication date

13 June 2023

Opening date

Deadline model

Multiple cut-off

Deadline dates

1 Feb 2023, 11:00 / 1 Mar 2023, 11:00 / 1 Apr 2023, 11:00 / 1 May 2023, 11:00 / 1 Jun 2023, 11:00 / 1 Jul 2023, 11:00 / 1 Aug 2023, 11:00 / 1 Sep 2023, 11:00 / 1 Oct 2023, 11:00 / 1 Nov 2023, 11:00 / 1 Dec 2023, 11:00 (CET)
Description
The purpose of the EuroHPC JU Development Access calls is to support researchers and HPC application developers by giving them the opportunity to develop, test and optimise their applications on the upcoming/available EuroHPC Pre-exascale and/or Petascale system prior to applying for an Extreme Scale and/or Regular Access. 
The EuroHPC Development call is designed for projects focusing on code and algorithm development and optimisation. As well as development of AI application methods. This can be in the context of research projects from academia or industry, or as part of large public or private funded initiatives as for instance Centres of Excellence or Competence Centres. Users will typically be allocated a small number of node hours; the allocation period is one year and is renewable up to two times. 
EuroHPC Systems 
The supercomputer systems and their operations provided for the Benchmark Access call by EuroHPC JU Hosting Entities are: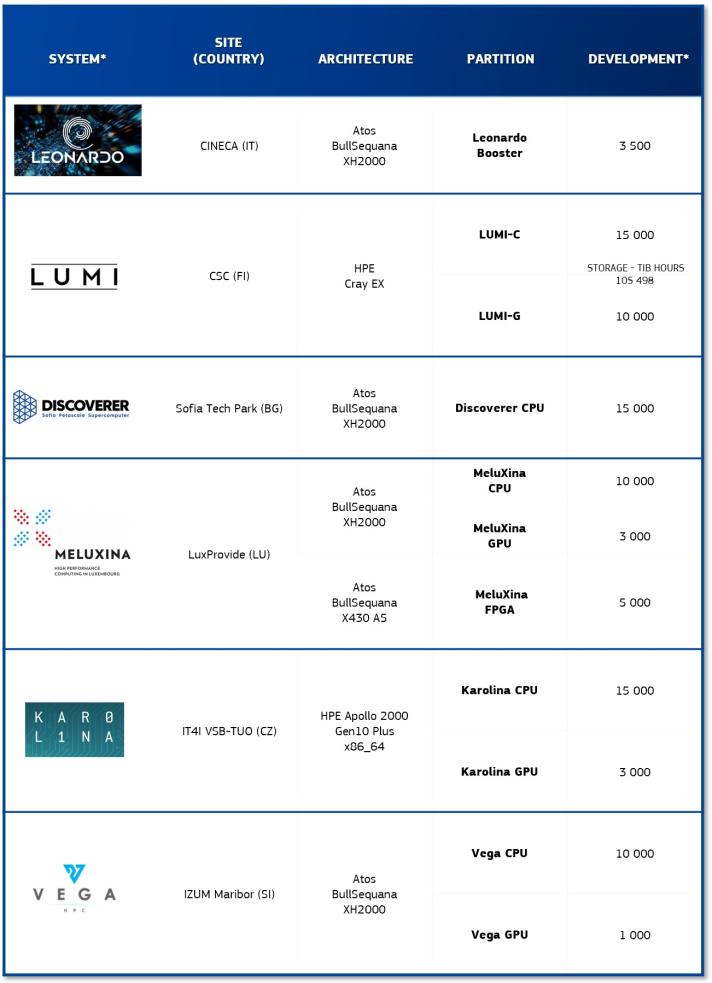 (*The above EuroHPC systems are sorted in order to show the last available system that entered production. **The resources are displayed in node hours.)
For more technical details on our supercomputers, you can visit the documentation pages provided by Hosting Entities on the petascale systems Vega, Karolina, MeluXina, Discoverer, and on the pre-exascale system LUMI, available for this call.
Call details
Opening: The calls for proposals for EuroHPC JU Development Access are continuously open, with pre-defined cut-off dates fixed every month that will trigger the evaluation of the proposals submitted up to this date. 
Start date: The maximum time-to-resources-access of two (2) weeks after the date of submission.
Resources available: Various systems will be available in each cut-off for the Development Access modes. The exact amount of available node hours is subject to the EuroHPC systems participating in each call and will be announced prior to the cut-off dates.
More information on call details, eligibility, assessment criteria and obligations for applicants and for awarded projects for Development Access can be found in the Documents section below.