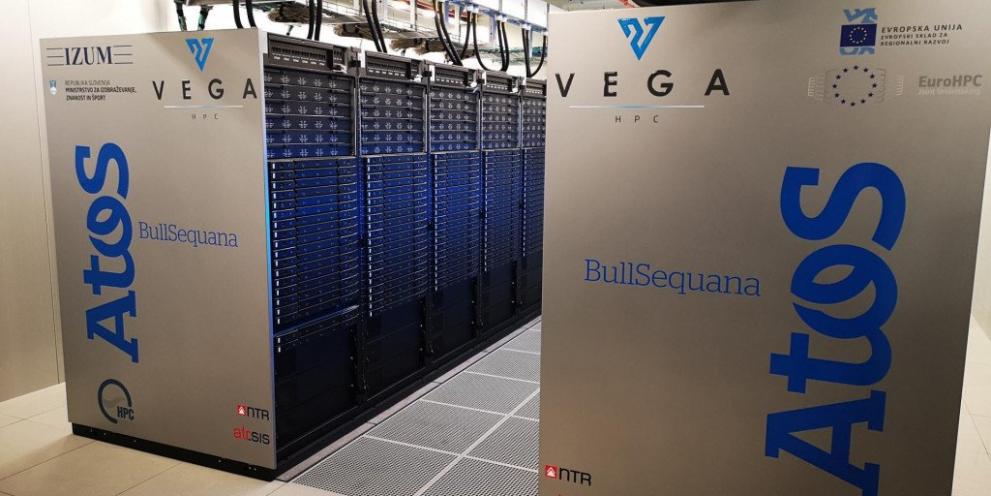 With the first EU supercomputer now operational in Slovenia, European High Performance Computing Joint Undertaking (EuroHPC JU) is officially ready to accept the first applications to access Vega's HPC system computing power.
From April 2021, access time is allocated to European scientific, industrial and public sector users, matching their demanding application requirements, according to the principles stated in the EuroHPC JU Council Regulation and the JU's Access Policy. The calls are running in collaboration with PRACE, all the necessary information can be found on PRACE website.
Vega is one of the fastest cutting-edge machines currently online in Europe and the largest supercomputer in Slovenia. Based on the BullSequana XH2000 technology infrastructure delivered by Atos, this petascale supercomputer has a sustained performance of 6.9 petaflops, or 6.9 million billion calculations per second and will underpin open science, research, and innovations in Slovenia and Europe.
For all supercomputers procured by the EuroHPC JU that will come online in the following months, The EuroHPC JU will manage the Union's access time of these supercomputers, from 35% up to 50% of their total capacity.
MeluXina, Karolina and Discoverer will follow Vega soon. Once all completed, the new EuroHPC supercomputers will substantially increase the computing power available in the EU, which is expected to reach 670 petaflops between 2021/2022.
Background 
The EuroHPC JU was established to enable the coordination of efforts and the sharing of resources at European level with the objective of deploying a world-class High Performance (HPC) infrastructure and a competitive innovation ecosystem in supercomputing technologies, applications and skills in Europe.
The EuroHPC JU has acquired pre-exascale and petascale supercomputers (the EuroHPC supercomputers) which will be located at and operated by supercomputing centres (Hosting Entities) in the Union.
Four other petascale supercomputers have been procured under the EuroHPC Joint Undertaking:
Furthermore, two EuroHPC pre-exascale supercomputers have been procured and will complement the petascale machines:
More information
Technical specifications of the new systems in this dedicated section of our website.
Details
Publication date

27 April 2021

Author